Digital Publishing of APQN 2019 and 2021 Anthologies
Background
The COVID-19 pandemic has caused global disruptions to holding international networking events and impacted work. Eduvalue was honored to be appointed as host for APQN 2020, unfortunately the physical event in Singapore had to be canceled due to the pandemic. The global pandemic disruptions have also caused a delay in publishing the physical APQN 2019 Sri Lanka anthology.
In 2021, Eduvalue proposed to the APQN Board to stage a free APQN 2021 digital event to be held on Thursday, 25 November 2021 from 4-7pm (GMT+8). The Board has unanimously agreed that a APQN 2021 AGM and ACC based on webinar format should be held so as to continue the traditions of holding the AGM and Annual Academic Conference (ACC). Announcement was made to members and various contacts in the academic, QA and educators globally in June 2021 on APQN website, and call for paper submission deadline in Friday, 15 October 2021 23:59 (GMT+8) as shown in Fig 1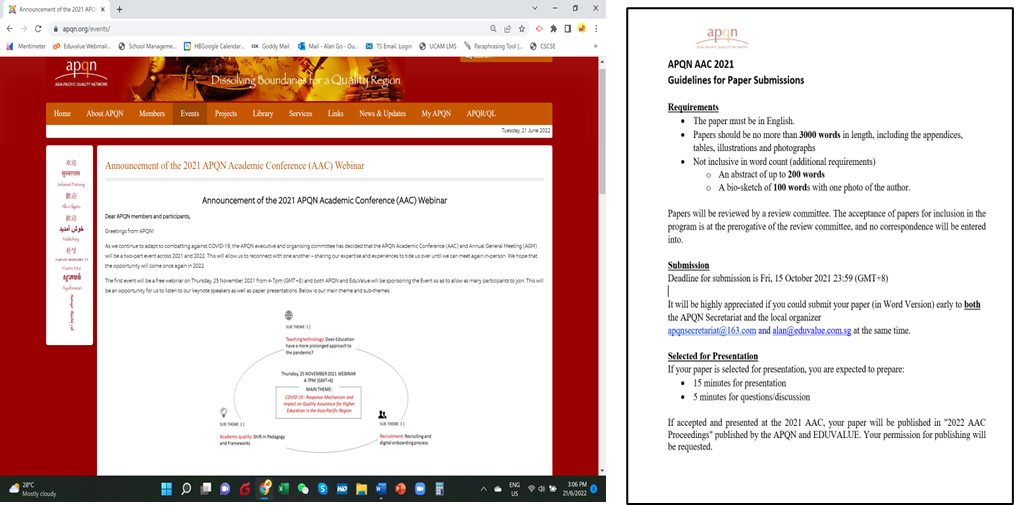 Fig 1: Announcement of APQN 2021 Singapore webinar and Call for paper
II. Digital published APQN anthologies to support for global Net-Zero "Green sustainability"
Eco-publishing is a method of creating publications that adhere to the principles of sustainability. Currently, nearly 10% of what we read is in digital format, nearly 100% of paper publications are produced using electronic equipment, and the energy footprint accounts for 7% of total greenhouse gas emissions[1]. Sustainable and green practices help businesses become more efficient, competitive, and profitable. It goes beyond "a nice thing to do." Businesses and organizations are recognizing the numerous practical short- and long-term financial benefits of making environmentally conscious changes.
A discussion between Eduvalue, the host of APQN 2021 and next APQN 2022 and APQN, CEO Barry and AQPN President, Prof. Dr. Zhang, agreed that both APQN 2019 Sri Lanka anthology and the APQN 2021 and APQN 2022 anthologies should all be digitally published. This initiative is the first time APQN anthology are digitally published. Both Eduvalue and APQN see the positiveness of a digital anthology:
Environmentally Friendly: With digital anthology, there's no need for paper or ink supporting the less use of trees and energy resources
More interactive: The content has now shifted from a static booklet to a digital platform wherein users can download and share anytime.
Expand Your Audience Reach: It is time-efficient and APQN can reach wider audience as the anthologies can be delivered to any media to the public and members through digital devices.
Digital Transformation: It showed that APQN has moved ahead with time, as it makes record retrieval painless while modernizing the organization to current business standards.
Print media has struggled to adapt to today's digital marketplace. We gain the benefits listed above by shifting APQN anthology content to digital distribution channels, while also becoming better prepared for future organizational changes by utilizing current platforms and technologies. There is no shortage of well-designed platforms for creating digital publications, and with so many options, it's simple to find one that meets APQN requirements and switch publishing methodology to meet a changing customer base that must embrace digitization.
III.Work of publishing the Digital anthologies
Eduvalue started to work on the designing and layout of the APQN 2019 and APQN 2021 anthology in digital format in Dec 2021. A brainstorming team and project team are established and lead by Alan Go, Lead Researcher, Eduvalue. APQN and Eduvalue jointly agreed on the editorial committee as shown in Diagram 1: Editorial and Publishing committees are appointed:
[1] Marta Escamilla Monell and Jordi Panyella Carbonell (2021). The environmental impact of digital publishing, available at: https://lab.cccb.org/en/the-environmental-impact-of-digital-publishing/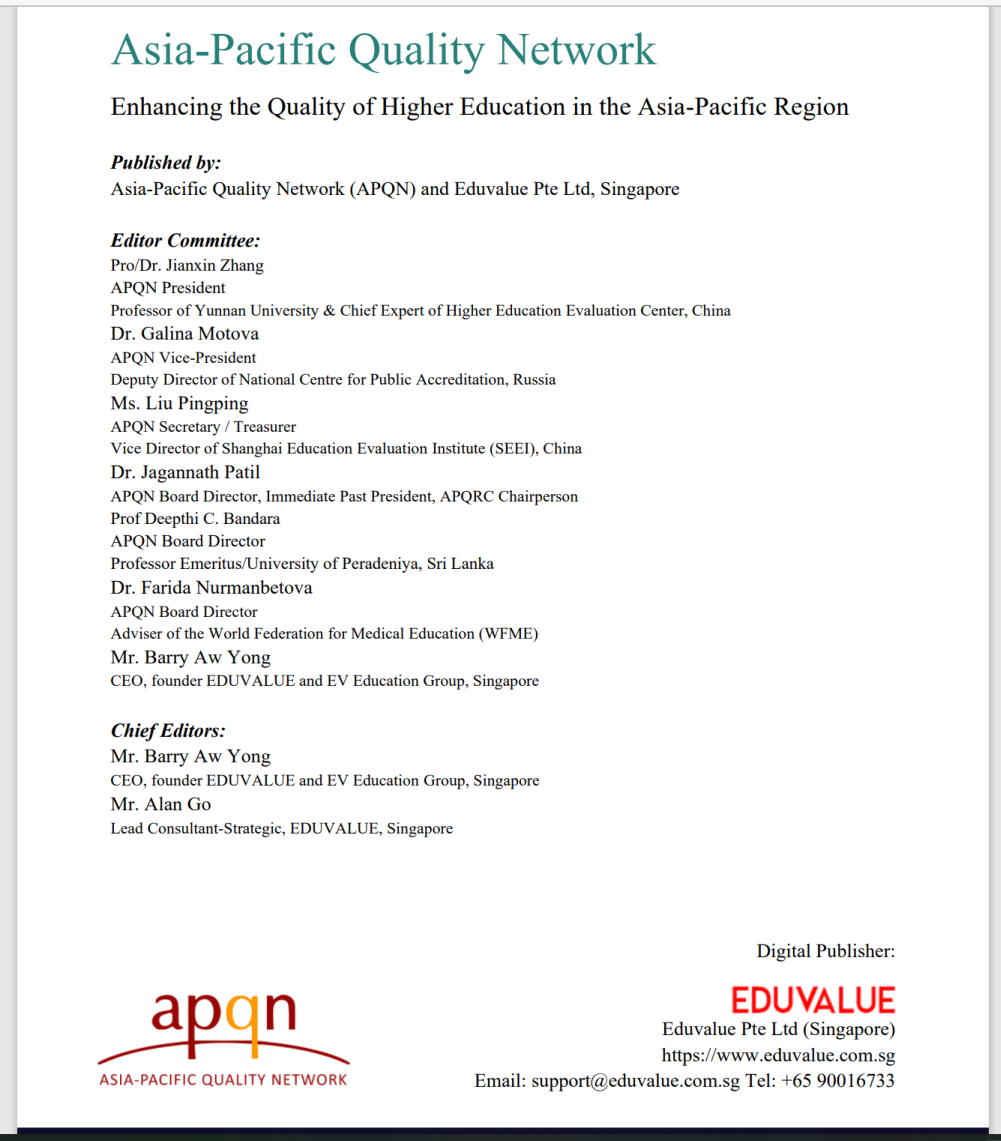 Diagram 1: Editorial and publishing committees
The total time spent coordinating the papers, editing, and layout was approximately 6 months. The initial concept of combining the two anthologies into a single digital book presented several layout challenges, as we discovered that the AQPN 2019 Sri Lanka papers are submitted in varying formats, whereas the APQN 2021 papers are generally more similar. We also encountered some difficulties in contacting the authors of APQN 2019, necessitating more time to coordinate the Sri Lanka papers. We decided to work on the APQN 2021 Singapore anthology first, while also working on the APQN 2019 anthology.
As a result of our discussions with APQN President Dr. Zhang, we decided to divide the design into two digital books.
The skyline of Sri Lanka was featured on the cover of APQN 2019, while the skyline of Singapore was featured on the cover of APQN 2021; both cover photos showed the skyline against a background that included waterways features in the foreground.
IV. The cover design
The objectives are to make the digital booklets a distinctive two separately held events, as well as show case the vibrancy of both countries' development over the centuries with beautiful night lights illuminating the skylines, while the waterways are of vital significance for the transportation of both people and goods all over the world-the intricate network of connections that exists between coastal ports, inland ports, rail, air, and truck routes serves as the basis for the human and business connections that can be found all over the world.
Therefore, the covers shown below in Fig 2: APQN 2021 Singapore Anthology and Fig 3: APQN 2019 Sri Lanka Anthology reflect how APQN served as a regional quality assurance network for the global education communities.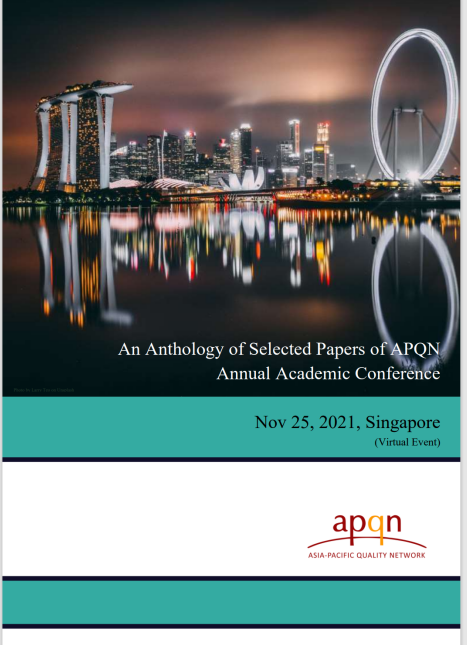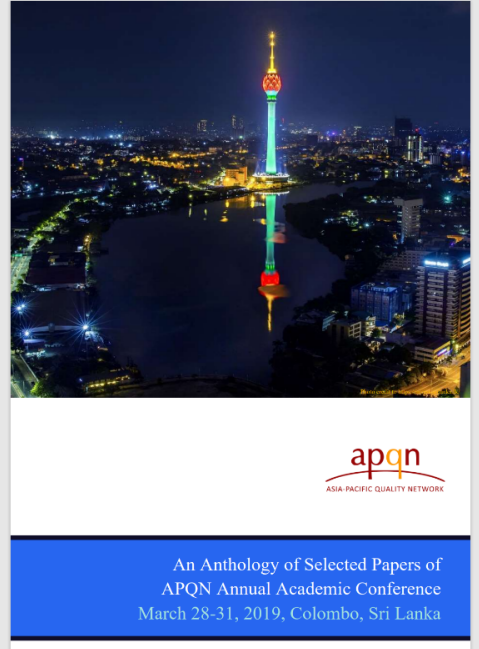 Fig 2: APQN 2021 Singapore Anthology Fig 3: APQN 2019 Sri Lanka Anthology
The APQN 2021 Singapore digital book draught was finished around the end of April 2021, and the APQN 2019 Sri Lanka digital book draught was finished around the end of May 2021. The books are distributed to the APQN Board for review. Several corrections and feedback from some authors were re-certified, and final layout was competed in early June 2021.
On 20 June 2022, both APQN anthologies are officially published, APQN 2019 contained 210 pages with 26 papers, APQN 2021 contained 225 pages and 28 papers.
(Written by Alan Go, Lead Researcher, Eduvalue; 2nd Chief Editors of AQPN 2019 and 2021 anthologies)