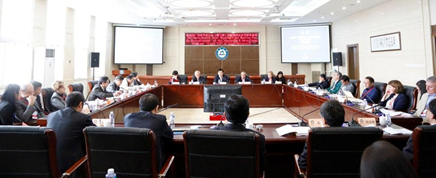 On December 4-7 an external review of two study programmes (Journalism and Advertising) of Jinan University was conducted by the Higher Education Evaluation Center (HEEC) of the Ministry of Education of the People's Republic of China and the National Centre for Public Accreditation (NACPA) in Russia.
It was a wonderful opportunity for HEEC and NCPA to get to know each other's experience and in practice to learn about specific features and evaluation methods used in the respective countries. This collaborative work contributes to mutual trust in the quality of education of the two countries, to the decisions, made by the two agencies and to further strengthening of mutually beneficial relations. This close friendship has begun since the first official meeting in Moscow in April of 2015. And already in September of 2015 in Beijing a bilateral Agreement on Cooperation was signed.
Joint international accreditation of two educational programmes of the Jinan University – is one of the stages of this fruitful cooperation. Joint accreditation is interesting for higher education institutions (HEIs), which deliver joint degree programmes. Also, for HEIs with a large number of foreign students or institutions invested in increasing student mobility. Joint accreditation may provide trust and recognition of the quality of education.
The international activities of the accreditation agencies have been developing for over two decades within the frame of international networks and associations (INQAAHE, APQN). As a rule, such activities involve active exchange of experience and ideas which the agencies' employees acquire during conferences, workshops and forums, organized by the networks and also through the analysis of information published in open sources (websites, journals, documents). Valuable experience can be gained during exchange visits to other. However, only joint work on programme accreditation gives the partner agencies real understanding of problems, immersion in a creative atmosphere and getting new ideas and opportunities for development.
A lot of extensive preliminary work was done to make this accreditation successful. As the first step it was necessary to conclude a bilateral agreement and give a detailed account of all procedural issues. The next step involved agreement and coordination of standards. It was necessary to study the content and teaching and learning methods in the country and what is especially important - to explore the methods of quality evaluation and assessment of learning outcomes. This important work is highly significant because another evaluation system is going to be applied in the national education environment. And this process should be gentle, involved and tolerant. In our case the quality evaluation is not based on the number of credits or score points but on values, traditions and goals of the educational system.
Due to fruitful cooperation, initiative and pro-active position and confidence between NCPA and HEEC this joint accreditation procedure has been effectively conducted. The main principles of this procedure were openness, friendliness and sincere desire to demonstrate the achievements of the study programmes to the international community.

(Written by Galina Motova from NACPA)