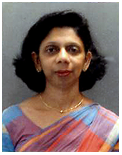 Prof Deepthi Bandara is a senior professor at the University of Peradeniya, Sri Lanka. An Agricultural Biologist by discipline, in addition to her teaching and research, she has been a champion on teaching methodology, curriculum development, quality assurance and staff development, contributing immensely to the enhancement of Higher Education in Sri Lanka. She has served as a workshop leader in over 100 workshops for a range of audiences throughout Sri Lanka. She has been a consultant on World Bank assisted projects on higher education in Sri Lanka in the past 14 years working on innovations in teaching, learning and assessment, and fostering University-Industry partnerships for commercializing and dissemination of research.
She served as the Director of the Quality Assurance and Accreditation Council of the University Grants Commission in Sri Lanka from 2016 – 2018 providing leadership and guidance to quality assurance activities of the State Universities. She was instrumental in securing to successfully bid to host the 2019 INQAAHE conference in Sri Lanka, after which the University Grants Commission was invited by the APQN to host its 15th Annual Academic conference. Prof Bandara was the local coordinator of both INQAAHE and APQN conferences held successfully in Sri Lanka in March 2019.
She served as a Director of the APQN Board from 2018-2019 and has been elected to serve as a Board Director for APQN for 2109 – 2022. Currently she serves as a member of the Standing Committee on Quality Assurance at the University Grants Commission and a member of the Standing Committee on Quality Assurance and Accreditation of Non- State HEIs under the purview of the Ministry of City Planning, Water Supplies and Higher Education in Sri Lanka.
Prof Deepthi has a Doctoral and Master degree from the Pennsylvania State University, USA and a Bachelor degree from the University of Peradeniya, Sri Lanka. She has published over 100 articles in refereed journals, presented at conferences and in abstract form and has supervised many Doctoral, Master and undergraduate students. She has published two books, served as editor of many articles and authored several training manuals on higher education..
Contact Details:
Director

Quality Assurance and Accreditation Council

University Grants Commission

This email address is being protected from spambots. You need JavaScript enabled to view it.